B J Handyman Services has assisted in saving a chimney and fireplace that once provided heat, cooking and light for the early pioneer settlers of Parke County. Big Raccoon Creek was the major water highway from northeast of Rockville, Indiana to the convergence with the Wabash River just south of Montezuma, Indiana. Montezuma was one of the turnaround points for the barges that used the Erie Canal for moving people and goods. It was common for early settlers to locate cabins or homes along the Big Raccoon Creek close to the Mansfield Mill, which was constructed in 1820 and still operates today under the supervision of the Indiana Department of Natural Resources.
The cabin (see picture below) that once stood where the fireplace and chimney does today was, according to local legend, removed and pulled away from the site by family members who did not agree with the distribution of wealth and property settlement following a death in the family. The historic chimney and fireplace have weathered Indiana storms, severe extremes in temperature and the determination of vandals to bring it down. It now stands behind the office building for the Mansfield Guest Inn and will be used in the future as an entertainment and picnic site for visitors to Parke County. It sits at the north end of the Mansfield Creekside Park which stretches northward to the Mansfield Covered Bridge built in 1867 and still in use today.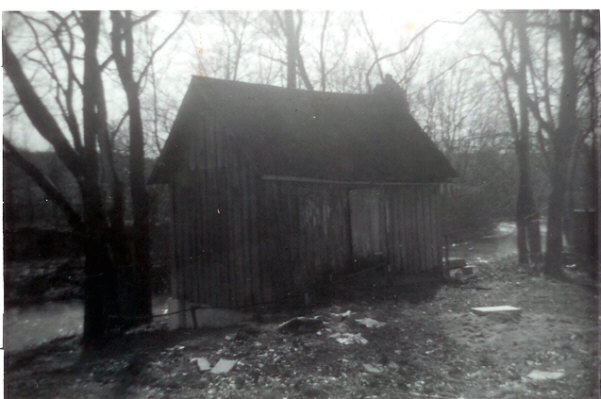 The top of the chimney is visible in the photo near the peak of the roof on the right side. Also visible is the concrete foundation that remains today; it is on the bottom left of the cabin. Please note that there were no windows on the topside of the cabin and upon entering the cabin you descended to the lower level where the fireplace was located. It is assumed that the back side of the cabin facing the creek had a door or windows to allow for a view of the creek.