HISTORIC PROPERTY
PARKE COUNTY INDIANA
HOME OF THE COVERED BRIDGE FESTIVAL
FOR SALE
Country Estate in Historic Parke County, Indiana
Home of the Covered Bridge Festival
Are you ready to leave the hustle and pressures of living in a crowded city for a life style and business opportunity? A unique and multipurpose 24.1 acre property has just become available in the Mansfield, Indiana area. Imagine a property with a modern 2500 square foot home nestled in native Indiana hardwoods. Think country Bed and Breakfast Inn and then consider that each October nearly two million tourists visit the 10 day Covered Bridge Festival. This fall will be the 57th festival.
The property has also been designed to take advantage of the income potential the Covered Bridge Festival affords. Over 2000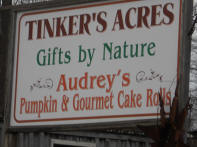 vendors from throughout the United States choose Mansfield and with an estimated 200 million dollars are spent by festival visitors. This property has previously served as a vendor area and as one access point to several parking lots. The infrastructure to support up to 300 vendors and campers is already installed. For example, underground electrical service is available throughout the property and a certified commercial well is in place. In addition, several vendor buildings are included. Tinker's Acres is the name used for identification of the property during the Covered Bridge Festival. The sign above is on Indiana 59 just south of the main entrance.
Access to Mansfield is provided by Indiana State Road 59 from the north and south and by Mill Road from the north. The Tinker's Acres property is bordered on the west by SR 50 and on the east by county road, Mill Road. This configuration provides the northern boundary of the entire Mansfield Covered Bridge Festival (click for map). Future expansion of the Festival will be to the north on the west side of the creek.
Contact information: The properties may be seen by appointment by calling the following number. We would be pleased to provide additional information or answer any question you might have.
765-344-1880