Scooters
(wheelchairs & wagons)
for Disabled Persons
Battery powered scooters are available for rent near Indiana 59 south entrance parking lot. Discount for veterans. Call for information and pricing.
816-645-5961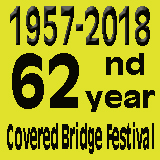 Create a Life Style
Create a Personal
Business
Unique Property
for Sale
in Covered Bridge
Country in Indiana
(click for information)
C
Mansfield Vendor Space 2018. Welcome to the Raccoon-Creek LLC home page. Raccoon Creek LLC is related to a number of activities found in Mansfield, Indiana, which is the largest venue of the famous Parke County Covered Bridge Festival. Big Raccoon Creek flows through Mansfield from the North to the South and served as an early waterway to the Wabash River. Wood and other products from Parke County made their way to the Mississippi River. The festival has enjoyed 60 years of celebrating the existence of thirty plus historic covered bridges. You are encouraged to mark your calendar for October 12-21, for the 2018 Covered Bridge Festival. Come and join the nearly two million visitors who find shopping, sightseeing and dining experiences unique to this historic festival.
Reserve your 2018 Covered Bridge Festival vendor space early...
Prime spaces are limited and go fast.
812-251-7660
New in 2017..Vendor Camping (click)
Mansfield (Miles to Mansfield) is by far the largest venue of the Covered Bridge Festival. It is located on Indiana 59 just north of I-70 and just south of I-74 about 50 miles west of Indianapolis. Come early and stay late. There are plenty of activities and acres of parking spaces for your convenience. See all of the Covered Bridges in Parke County.
Choice Vendor sites available for the 2018 Covered Bridge Festival