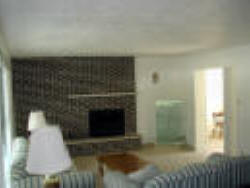 The large parlor features a piano, fireplace and library area. Guests are invited to relax here and enjoy their visit to this historic hamlet first settled in about 1820.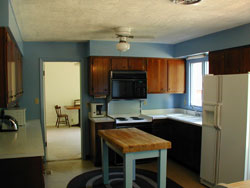 A large country kitchen is the center of guest activities in the morning. Humming birds are just outside the window and the Big Raccoon Creekside Park awaits your morning walk.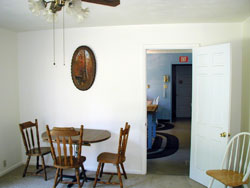 The dining room provides seating for guests at private tables. Food is also served in the country kitchen adjacent to the dining room. Full view of the rear garden and creek are available through sliding doors.
Guest Services Information
All of the rooms in the Mansfield Guest Inn feature quilt-covered queen beds. Each room is designed for double occupancy. Additional guests in a room will be at an increased rate of $15 per day.
The entire facility is smoke free. Guests who prefer may smoke outside. Consumption of alcoholic beverages is restricted to the guest rooms and Creekside Park. We request that food and beverages be limited to the dining room and kitchen. A large dining room and kitchen area is designed for guest dining. Two microwave ovens are available in the kitchen for guest usage.
"..a quiet and peaceful place to restore yourself.." Jacksonville, FL guest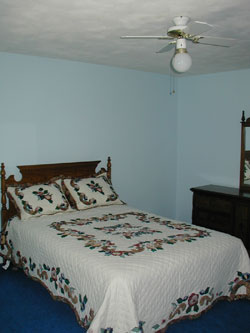 Named in honor of J. J. Daniels, the builder of the Mansfield Covered Bridge and several others in Parke County, the spacious master suite features a bathroom and a large walk-in closet. A quilts covers the queen size bed.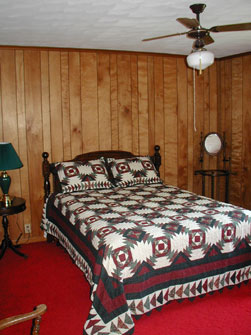 Adjacent to the J. J. Daniels room is the Clarissa Daniels Room named in honor of his wife. It is paneled in birch wood and when rented combined with the J. J. Daniels rooms shares the bath in the master suite. If booked as a separate room it shares the large bath with two other rooms.
Guest Services Information
A continental breakfast is served each morning. A wide selection is available.
Check in is 4:00 p.m. to 7:00 p.m. and check-out is at 11:00 a.m. In some cases special arrangements may be made to accommodate guest needs.
Children 14 years and younger must be supervised by an adult at all times. At this time we have no cots or roll-a-way beds.
"... a surprise for us, creekside park is just magnificent ..." Detroit, MI guest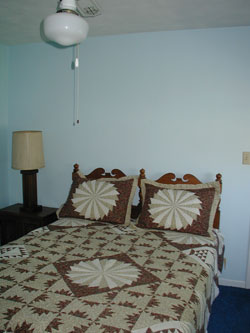 Covered Bridge was selected as the name for this large room. It features a queen sized bed and large seating area. It shares a bath which is just across the hall. Home-like but with the privacy you expect.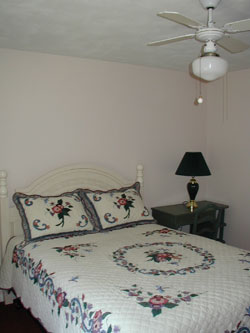 White is the dominant color of the Creekside Room, a comfortable and delicate place to rest. A quilt covered queen bed and a white rocker complete the room. Just the place for a quiet and restful night.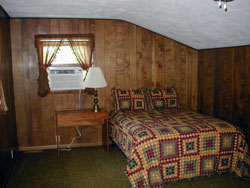 Named for an Indiana hardwood the Black Walnut Room features Indiana Black Walnut panels. A private bath and large seating area make this a long-term stay if you wish. A quilt compliments the queen bed. It also overlooks the Big Raccoon Creekside Park. A beautiful view of the sunrise. One guest described this room as a cabin within a home.